Accessories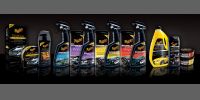 MEGUIAR'S Protect your ride! Follow us to lock in the perfect shine!
MEGUIAR'S BRILLIANT SOLUTIONS NEW CAR KIT G3200
Brilliant Solutions New Car Kit
Product number: G3200 | SKU: 070382005429
Meguiar's® eliminates the guesswork by providing everything you need to keep
your car looking new, except the bucket & water!
Includes:
• Meguiar's® Ultimate Wash & Wax.
• Ultra plush microfiber wash mitt & Water Magnet™ .
• Microfiber drying towel.
• Meguiar's® Ultimate Liquid Wax with a soft foam applicator.
• Supreme Shine™ Microfiber Towel.
• Endurance® Tire Gel & applicator.