Automotive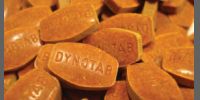 Dyno-Tab Additives DYNO-TAB® products are backed by scientific data and will lengthen the life of your engine. The DYNO-TAB® chemistry has been sold for over 20 years in various markets with outstanding results worldwide. DYNO-TAB® (tablet format) has been available for over 12 years. It will not harm catalytic converters or oxygen sensors.
DYNO-TAB Multi-Functional Fuel Treatment 45402
Description
Enjoy all the benefits of Dyno-tab® fuel treatment such as improved fuel economy and better power and performance in a convenient 2-tab package. Why pay for a liquid carrier when you can get all the benefits in tablet technology and lessen the impact on the environment in the bargain. Gasoline or diesel.
Contains 2 1 gram tablets
Each tablet treats up to 16 gallons (60 liters)
Made in USA