Automotive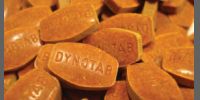 Dyno-Tab Additives DYNO-TAB® products are backed by scientific data and will lengthen the life of your engine. The DYNO-TAB® chemistry has been sold for over 20 years in various markets with outstanding results worldwide. DYNO-TAB® (tablet format) has been available for over 12 years. It will not harm catalytic converters or oxygen sensors.
Dyno-tab Diesel Fuel Treatment with Injector Cleaner 45602
Description
Dyno-tab® Diesel Treatment with Injector Treatment is specially formulated for the unique properties of diesel engines and fuel systems. In addition to boosting mileage and improving engine performance it keeps injectors clean and prevents diesel oxidation and sludge formation. Dyno-tab® Diesel Treatment with Injector Cleaner complies with federal laws regarding low sulfur requirements in diesel fuel. For use in motor vehicles and other diesel applications such as generators and pumps.
Contains 2 1 gram tablets
Each tablet treats 16 gallons (60 liters)
Made in USA