Automotive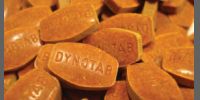 Dyno-Tab Additives DYNO-TAB® products are backed by scientific data and will lengthen the life of your engine. The DYNO-TAB® chemistry has been sold for over 20 years in various markets with outstanding results worldwide. DYNO-TAB® (tablet format) has been available for over 12 years. It will not harm catalytic converters or oxygen sensors.
DYNO-TAB Octane Booster Maximum Strength Racing Formula 45432
Octane Booster
As reductions in the size and displacement of automobile engines and modifications to fuel characteristics have been made in an effort to reduce pollution, consumers have found themselves searching for a way to counteract the resultant loss of performance. Dyno-tab® introduced their High Performance Octane Booster in 2005 and it was an immediate hit with racing and performance enthusiasts as well as the general public. In fact, this product was runner-up for the prestigious New Product Award at the Automotive Aftermarket Expo (AAPEX) in Las Vegas that year.
It was obvious that our High Performance Octane Booster was a winner, but it wasn't until it went head-to-head against 8 other similar products that we knew just how good it was. The standard ASTM D-2699 Octane Test, administered by Core Laboratories in Houston, Texas showed that 2 tablets of Dyno-tab® Octane Booster added to readily available gasoline produced a whopping 17 point increase! To be certain that our test results were accurate, the test was conducted a second time with the same outcome. Check out the complete results here.
So whether you want to get the most out of your racing or high performance engine or just want to save money by buying lower octane fuel and bumping it up, Dyno-tab® High Performance Octane Booster just makes good sense! Fast dissolving tablets will not damage catalytic converters or oxygen sensors.
Description
Whether it's for the track or the street, adding one tablet at fill-up can give you a 10 point boost in your octane rating and adding two can increase it 17 points! Fast dissolving and safe for catalytic converters and oxygen sensors, Dyno-tab® High Performance Octane Booster has been shown to 'beat the bottled boosters' in independent lab tests.
Contains 2 1.5 gram tablets
Each tablet treats up to 16 gallons (60 liters)
Made in USA