Automotive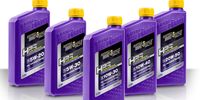 Royal Purple Oil Royal Purple manufactures high performance lubricants for most automotive, industrial, marine, motorcycle and racing applications. It is considered the best synthetic oil by many end users. Royal Purple synthetic oil and synthetic lubricants are formulated to maximize performance in real world applications. Numerous independent parties report performance gains by using Royal Purple lubricants. Additive technologies, such as Synerlec, enable Royal Purple synthetic products to outperform leading synthetic and conventional lubricants. These unique chemistries strengthen the base oil for improved performance.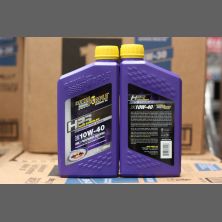 Royal Purple HPS 10w-40 Quart Bottle (0.946Litre)
Royal Purple HPS Series motor oil is specifically formulated to maximize performance and meet the demands of high performance and modified engines. HPS is recommended for vehicles no longer under manufacturer warranty and for those seeking a higher level of performance and protection.
This unique blend enables HPS to outperform leading synthetics and conventional lubricants for both gasoline and diesel engines. Royal Purple's HPS is fortified with a high level of zinc/phosphorus anti-wear additive and Royal Purple's proprietary Synerlec® additive technology. Available viscosities include: 5W-20, 5W-30, 10W-30, 10W-40 and 20W-50.
Royal Purple HPS Series of motor oil responds to increased pressure with increased viscosity. It's advanced additive technologies, such as Synerlec, improves the condition of metal-to-metal contact under severe conditions for greater protection. Take a look at the following photos:
| | | |
| --- | --- | --- |
| A new bearing surface appears smooth until magnified 1500x | The bearing is scuffed after using the leading synthetic oil | The bearing is visibly smoother after using Royal Purple HPS |
Performance Advantages
Maximum wear protection
Exceptionally high film strength for dramatic reductions in engine wear and reduced engine heat to extend the life of your engine
Improved performance
Improved sealing between the piston ring and cylinder wall maximizes horsepower and torque and optimizes fuel economy
Better efficiency
Exceptional oxidation stability extends oil life and allows for more miles driven between oil changes saving you time, money and reducing the impact on the environment
Cleans
Advanced synthetic solvency reduces engine deposits and keeps engines clean
Advanced protection
Protects valve trains using roller or flat tappet lifters that require added protection due to high lift/ high ramp rate camshafts
Superior corrosion protection
Provides superior corrosion protection
For vehicles under warranty, Royal Purple recommends its API-licensed oils available at retailers nationwide.
More info please visit Royal Purple USA website.
http://www.royalpurpleconsumer.com/products/hps-motor-oil/