Automotive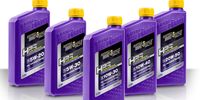 Royal Purple Oil Royal Purple manufactures high performance lubricants for most automotive, industrial, marine, motorcycle and racing applications. It is considered the best synthetic oil by many end users. Royal Purple synthetic oil and synthetic lubricants are formulated to maximize performance in real world applications. Numerous independent parties report performance gains by using Royal Purple lubricants. Additive technologies, such as Synerlec, enable Royal Purple synthetic products to outperform leading synthetic and conventional lubricants. These unique chemistries strengthen the base oil for improved performance.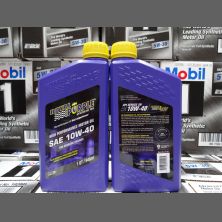 Royal Purple Engine Oil 10W-40 Quart Bottle (0.946Litre)
Royal Purple's API-licensed Motor Oil combines premium base oils with proprietary additive technologies to create high performance motor oils that optimize engine performance. Royal Purple's API-licensed motor oil delivers superior protection and improves performance in gasoline and diesel engines. Royal Purple's API-licensed SN motor oil meets ILSAC GF-5 and Dexos1™* performance requirements.
No special procedures are necessary when upgrading to Royal Purple. Royal Purple recommends waiting until the manufacturer's first scheduled oil change in new gasoline and diesel engines before upgrading to Royal Purple.
Royal Purple motor oil is compatible with synthetic and conventional motor oils. Available viscosities include: 0W-20, 0W-40, 5W-20, 5W-30, 5W-40, 10W-30, 10W-40, 15W-40 and 20W-50 weights. Royal Purple also offers mono-grade motor oils in SAE 30, SAE 40 and SAE 50 weights.
Better wear protection
Enhanced additive technology prevents metal-to-metal contact beyond both dexos1™* and ILSAC GF-5 specs
Increased fuel efficiency
A low coefficient of friction results in optimized fuel efficiency (the fuel economy of our 5W-30 meets the fuel economy requirements of a 5W-20 oil)
Better protection of the expensive catalytic emission system
Patented ZDDP additives optimize emissions catalyst system life
Improved compatibility with fuels containing ethanol
Patented additive technology prevents the white sludge and lubrication starvation that can occur with 20% or higher ethanol fuel
Superior corrosion protection
No rust observed in standard industry testing
*dexos1™ is a registered trademark of the General Motors Corporation.
For those seeking enhanced performance in vehicles not under warranty, we recommend our HPS Series of high performance street motor oils with our proprietary Synerlec additive technology.
For racing applications, we recommend our XPR – Extreme Performance and Racing motor oil.
For improved performance in two-cycle engines, check out Royal Purple's HP 2-C.
More info please visit Royal purple USA website.
http://www.royalpurpleconsumer.com/products/royal-purple-motor-oil/