Product Feature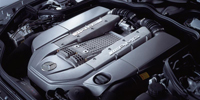 Product Feature These products offer the highest quality available on the market today and in the widest variety of viscosity.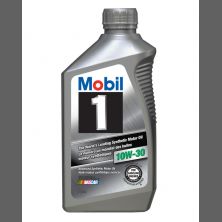 Mobil 1 Enine Oil 10W-30 Quart Bottle (0.946 Liter)
Mobil 1™ 10w-30
Keeps your engine running like new
Mobil 1 advanced full synthetic motor oils deliver exceptional performance and protection for vehicles of all ages and for all driving conditions – normal to extreme.
Mobil 1 oils keep engines running like new by helping:
Combat sludge and deposit buildup
Reduce wear
Control oil breakdown
Mobil 1 motor oils offer a full range of temperature protection: For cold starts, the oil keeps flowing as low as -40 degrees Fahrenheit, and it can withstand high temperatures of up to 500 degrees Fahrenheit.
In fact, Mobil 1 is the World's Leading Synthetic motor oil brand, recommended by more car builders and used by more NASCAR® teams than any other brand of motor oil. What's more, Mobil 1 oils meet or exceed the toughest standards of Japanese, European and U.S. car builders.
Please reference our Mobil 1™ Product Guide for a quick look at specifications including zinc and phosphorus, as well as manufacturer approvals for Mobil 1 motor oils.
We stand behind our products. Read our Mobil 1 limited warranty.
Features and benefits
Advanced full synthetic formula
Helps prevent deposits and sludge buildup to enable long engine life
Provides overall lubrication and wear protection performance for many driving styles
Outstanding thermal and oxidation stability
Delivers outstanding performance during the maximum oil change interval recommended in a vehicle's owner's manual. Read our guarantee.
Offers superb viscosity control
Excellent low-temperature capabilities
Support quick cold-weather starting and ultra-fast protection
Help extend engine life and reduce stress on starting system components
Specifications and approvals
Mobil 1 10W-30 synthetic motor oil meets or exceeds the requirements of:
ACEA A1/B1, A5/B5
API SN, SM, SL, SJ
ILSAC GF-5
According to ExxonMobil, Mobil 1 10W-30 is of the following quality level:
General Motors GM 4718M
General Motors GM 6094M
API CF
Technical details
| | |
| --- | --- |
| SAE grade | 10W-30 |
| Viscosity @ 100ºC, cSt (ASTM D445) | 10.1 |
| Viscosity, @ 40ºC, cSt (ASTM D445) | 63.2 |
| Viscosity index | 146 |
| Sulfated ash, wt%, (ASTM D874) | 0.8 |
| HTHS viscosity, mPa•s @ 150ºC (ASTM D4683) | 3.0 |
| Pour Point, ºC (ASTM D97) | -42 |
| Flash Point, ºC (ASTM D92) | 232 |
| Density @15º C g/ml, (ASTM D4052) | 0.859 |
More info Please visit mobil 1 usa site.
http://www.mobil.com/USA-English/Lubes/PDS/GLXXENPVLMOMobil_1_10W-30.aspx