Product Feature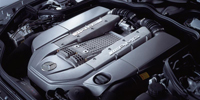 Product Feature These products offer the highest quality available on the market today and in the widest variety of viscosity.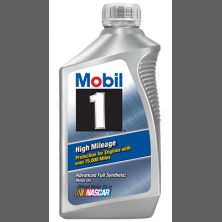 Mobil 1 Mobil 1™ High Mileage 5W-30 Quart Bottle (0.946 Liter)
Mobil 1™ High Mileage 5W-30
Helps extend engine life and prevent leaks in vehicles with more than 75,000 miles
Mobil 1 High Mileage oils are designed to help maximize engine performance and extend engine life in older vehicles.
These advanced full synthetic oils are made with a proprietary blend of high-performance synthetic base oils fortified with an additive system designed to help prevent leaks.
If your engine contains excessive sludge deposits due to less-than-adequate maintenance practices, Mobil 1 High Mileage oils can help by reducing this sludge. For severe cases of sludge, short oil change intervals (3,000-5,000 miles) are recommended for the first two or three oil changes as the sludge reduction takes place. (In cases of engine damage that may have resulted from poor maintenance, even Mobil 1 cannot remedy years of neglect.)
Please reference our
Mobil 1™ Product Guide
for a quick look at specifications including zinc and phosphorus, as well as manufacturer approvals for Mobil 1 motor oils.
Features and benefits
Advanced full synthetic formula
Provides excellent overall lubrication and wear protection
Outperforms our conventional high mileage oils
Extra anti-wear additive
Helps protect critical engine parts in high mileage engines
Extra cleaning additive
Helps to reduce the sludge and deposits that conventional oils can leave behind
Seal conditioner
Helps prevent leaks
Specifications and approvals
Mobil 1 High Mileage 5W-30 synthetic motor oil meets or exceeds the requirements of:
ACEA A1/B1, A5/B5
API SL
Mobil 1 High Mileage 5W-30 is of the following quality level:
API CF
Technical details
| | |
| --- | --- |
| SAE Grade | 5W-30 |
| Viscosity (ASTM D445) | |
| cSt @ 40ºC | 69.2 |
| cSt @ 100ºC | 11.7 |
| Viscosity Index | 165 |
| HTHS Viscosity, mPa•s @ 150ºC (ASTM D4683) | 3.3 |
| Pour Point, ºC, (ASTM D97) | -39 |
| Flash Point, ºC, (ASTM D92) | 230 |
| Density @15.6 ºC g/ml (ASTM D4052) | 0.856 |
More info please visit Mobil 1 USA website.
http://www.mobil.com/USA-English/Lubes/PDS/NAXXENPVLMOMobil_1_High_Mileage_Oil.aspx