Product Feature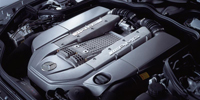 Product Feature These products offer the highest quality available on the market today and in the widest variety of viscosity.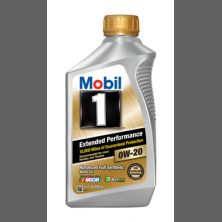 Mobil 1 EP 0W-20 Quart Bottle (0.946Litre)
Mobil 1 Extended Performance is an advanced full synthetic motor oil that keeps your engine running like new and provides protection for up to 15,000 miles between oil changes – guaranteed.*
Suitable for cars, vans and light trucks, these high performance motor oils are uniquely designed to help provide outstanding levels of performance, cleaning power and engine protection, even during extended oil change intervals.
Mobil 1 Extended Performance formula combines a proprietary blend of high performance synthetic base stocks with a precisely balanced additive component system to deliver unsurpassed wear protection.
Please reference our Mobil 1™ Product Guide for a quick look at specifications including zinc and phosphorus, as well as manufacturer approvals for Mobil 1 motor oils.
We stand behind our products. Read our Mobil 1 Extended Performance limited warranty.
Advanced full synthetic formula
Helps prevent deposits and sludge buildup to enable long engine life
Offers excellent overall lubrication and wear protection performance under many operating conditions, from mild to severe
Precise balance of performance additives
Helps provide outstanding engine protection at oil change intervals of up to 15,000 miles or one year, whichever comes first
Outstanding thermal and oxidation stability
Offers exceptional control of oil breakdown
Helps maintain stable oil viscosity
Exceptional engine protection
Helps maintain long engine life and is compatible with engine seals
Excellent low-temperature capabilities
Enable quick cold-weather starting for fast protection and extended engine life
Help provide less stress on your starting system
Specifications and approvals
Mobil 1 Extended Performance 0W-20 meets or exceeds the requirements of:
ILSAC GF-5
API SN, SM, SL, SJ
Ford WSS-M2C947-A
Mobil 1 Extended Performance 0W-20 has the following builder approvals:
General Motors dexos1™ (license number GB1D1009015)
According to ExxonMobil, Mobil 1 Extended Performance 0W-20 is of the following quality level:
General Motors 6094M
API CF
General Motors dexos1™ (license number GB1D1009015)
According to ExxonMobil, Mobil 1 Extended Performance 0W-20 is of the following quality level:
General Motors 6094M
API CF
More info Please visit Mobil 1 USA
https://mobiloil.com/en/motor-oils/mobil-1/mobil-1-extended-performance