Product Feature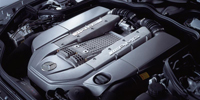 Product Feature These products offer the highest quality available on the market today and in the widest variety of viscosity.
Mobil 1 Turbo Diesel Truck 5W-40 Gallon Bottle (3.785Litre)
Mobil 1™ Turbo Diesel Truck 5W-40 is a fully synthetic performance heavy duty diesel engine oil that helps extend engine life while providing long drain capability and fuel economy for modern diesel engines operating in severe applications.
Mobil 1 Turbo Diesel Truck utilizes state-of-the-art technology to help deliver exceptional performance in modern low emission engines, including refrigerated units, as well as older, well-maintained engines. It is recommended for use in a wide range of light-duty applications such as turbo diesel pick-up trucks, as well as, heavy-duty applications and operating environments found in the on-road transport and off-road mining, construction, and agricultural industries. Mobil 1 Turbo Diesel Truck also meets the API SM specification for gasoline engines used in mixed fleets.

The performance of Mobil 1 Turbo Diesel Truck 5W-40 is the result of extensive cooperative development work with major equipment builders and application of the latest lubrication technology.

Mobil 1 Turbo Diesel Truck 5W-40 is recommended for use in all super high performance diesel applications, including modern low emission engine designs with Exhaust Gas Recirculation (EGR). These applications include the following:

On-highway engines operating in both high speed/high load and stop-and-go conditions


Off-highway engines operating in severe low speed/heavy load conditions


Virtually all diesel powered equipment from American, European, and Japanese equipment builders


High performance gasoline engines and mixed fleets


Refrigeration units
Mobil 1 Turbo Diesel Truck 5W-40 synthetic motor oil meets or exceeds the requirements of the following industry and builder specifications:
API CJ-4, CI-4 PLUS, CI-4, CH-4/ SM, SL, SJ
ACEA E7 Issue 2
Caterpillar ECF-2, ECF-3
According to ExxonMobil, Mobil 1 Turbo Diesel Truck 5W-40 is of the following quality level:
CG-4
Oil Change Interval: Oil change intervals can be as short as 3,000 miles or as long 15,000 miles on some new cars. We recommend that you follow the oil and filter change frequencies shown in your owner's manual. With Mobil 1´s high-performance reserves, you can have the confidence to go the full mileage or time frame recommended by the vehicle manufacturer. Mobil 1 is especially suitable for the latest vehicles with extended drain intervals or vehicles with oil monitoring systems that vary oil drain intervals.

More info please visit Mobil 1 USA website.
http://www.mobil.com/USA-English/Lubes/PDS/GLXXENPVLMOMobil1_Turbo_Diesel_Truck_5W-40.aspx