Product Feature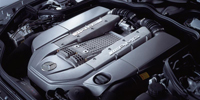 Product Feature These products offer the highest quality available on the market today and in the widest variety of viscosity.
Redline Big Twin 20W50 PowerPack Kits
Complete kit for motorcycles equipped with Evolution and Twin-Cam engines
Includes 5 quarts of 20W50 Motorcycle Oil, 1 quart of V-Twin Transmission Oil with ShockProof, 1 quart of Primary Chain Case Oil, 1 bottle of Fuel Injection Cleaner for Motorcycles, a sticker kit, a Red Line Oil embroidered hat, and a versatile funnel.
Motor oils and gear oils are specifically engineered for the latest high-revving four-stroke motocross bikes and ATVs, Sportbikes, and V-Twins
Each gear oil product reduces the thinning effect from high temperatures
Motor oils are packed with higher levels of anti-wear chemistry like zinc and phosphorus
Special friction modifiers in our motor oils better wet-clutch operation
A variety of Two-Stroke oils to meet the NMMA TC-W3 regulations where required
More info please visit Redline USA website.