Product Feature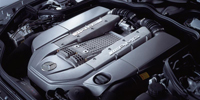 Product Feature These products offer the highest quality available on the market today and in the widest variety of viscosity.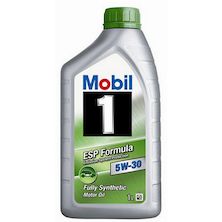 Mobil 1 5W-30 ESP Synthetic 1 Litre Bottle
Mobil 1™ ESP Formula 5W-30 is an advanced performance synthetic motor oil made with a proprietary blend of leading edge components formulated to be fully compatible with the latest Diesel Particulate Filters (DPF's) and Gasoline Catalytic Converters (CAT's). It is designed to help deliver outstanding performance and protection in conjunction with fuel economy benefits.
Mobil 1 ESP Formula 5W-30 has been expertly engineered to help prolong the life and maintain the efficiency of emission systems in both diesel and gasoline powered automobiles. Mobil 1 ESP Formula 5W-30 meets or exceeds the requirements of many leading industry and car manufacturers' standards required for newer modern diesel and gasoline powered passenger car engines.

Mobil 1 ESP Formula 5W-30 is recommended for all types of modern automobile engines, especially the high-performance gasoline and diesel engines found in the latest passenger cars, SUVs and light vans.

It is designed to help provide exceptional cleaning power, wear protection and overall performance.

Mobil 1 ESP Formula 5W-30 is especially suitable for extreme conditions, where conventional oil often may not perform.


It is not recommended for 2-cycle or aviation engines, unless specifically approved by the manufacturer.
Mobil 1 ESP Formula 5W-30 has the following builder approvals:


BMW

Longlife 04

MB-Approval

229.31/229.51

Volkswagen (Gasoline/Diesel)

504 00 / 507 00

Porsche

C30

Chrysler

MS-11106

Peugeot/Citroën Automobiles

B71 2290
B71 2297

AVTOVAZ

LADA cars


Mobil 1 ESP Formula 5W-30 meets or exceeds the requirements of:


| | |
| --- | --- |
| ACEA | C2, C3 |
| API (Meets Engine Test Requirements) | SM/SN |
| JASO | DL-1 |
| AAE (STO 003) | Group B6 |

According to ExxonMobil, Mobil 1 ESP Formula 5W-30 is of the following quality level:


| | |
| --- | --- |
| API | CF |
| Volkswagen (Gasoline)* | 502 00 / 503 00 / 503 01 |
| Volkswagen (Diesel)* | 505 00 / 505 01 / 506 00 / 506 01 |
*All VW engines with the exception of Unit-Injector/Pump-Duse TDI without LongLife Service and without DPF between 1999-2003 and R5/V10-TDi before model year 2006.
Oil Change Interval: Oil change intervals can be as short as 3,000 miles or as long 15,000 miles on some new cars. We recommend that you follow the oil and filter change frequencies shown in your owner's manual. With the high-performance reserves of Mobil 1 synthetic oil, you can have the confidence to go the full mileage or time frame recommended by the vehicle manufacturer. Mobil 1 synthetic motor oil is especially suitable for the latest vehicles with extended drain intervals or vehicles with oil monitoring systems that vary oil drain intervals.

For more information see the Mobil 1 ESP Formula 5W-30 Product Data Sheet or find a Material Safety Data Sheet.