Product Feature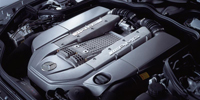 Product Feature These products offer the highest quality available on the market today and in the widest variety of viscosity.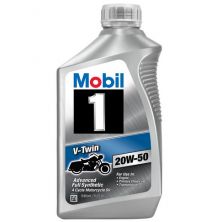 Mobil 1 V-Twin 20W50 Motorcycle Oil Quart Bottle (0.946Litre)
Mobil 1™ V-Twin 20W-50 synthetic motorcycle oil is formulated to help offer outstanding protection in 4-cycle, V-Twin type engines, particularly those which are air cooled and tend to run hotter than other types of engines.
Mobil 1 V-Twin 20W-50 is recommended for 4-cycle V-Twin type engine motorcycles which specify the use a 20W-50 engine oil. This oil will help provide excellent performance in motorcycle engines that are designed with a common engine/transmission lubrication system or where the engine lubrication system is separate from the transmission system. In the case of the latter, follow the manufacturer's recommendation for the type of fluid to be used in the transmission. Mobil 1 V-Twin 20W-50 engine oil is designed to help provide the proper frictional characteristics necessary for wet-clutch common engine/transmission systems. It has been fully tested, both on laboratory dynamometers and in the field, to help provide optimum horsepower and acceleration.

The unique, synthetic structure of the Mobil 1 motorcycle oil formulations enables them to offer advantages beyond conventional motorcycle oils of similar viscosities. For example, base oils become lighter in viscosity as temperatures increase. This characteristic forces manufacturers of oils to use thickeners which will help the oil maintain its viscosity as the temperature increases. These thickeners, however, can shear down and lose their thickening capacity in an operating engine or transmission. Synthetic fluids do not require as much thickener to achieve a multigrade viscosity rating and, in some cases, do not require any thickener. As a result, synthetic formulations tend to be very shear stable and thus, provide a solid, protective oil film for engine bearings, piston rings, transmission gears and other critical engine parts.

Both Mobil 1 motorcycle oil formulations offer excellent flow characteristics at low temperatures to help reduce engine wear at start-up, and provide outstanding resistance to oxidation and/or volatilization at high temperatures, both of which degrade the oil. Further, Mobil 1 motorcycle oils help provide outstanding protection against engine wear under high-temperature and high engine speed conditions. Each of the Mobil 1 motorcycle oil formulations has been optimized to help meet the unique performance characteristics demanded by motorcycle engines and thus, provide an extremely high level of performance and protection for motorcycle engines.
Mobil 1 V-Twin 20W-50 meets or exceeds the requirements of:
API SJ
According to ExxonMobil, Mobil 1 V-Twin 20W-50 is of the following quality level:
API CF
For more information, see the Mobil 1 Motorcycle Oil Product Data Sheet or find a Material Safety Data Sheet.