Product Feature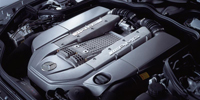 Product Feature These products offer the highest quality available on the market today and in the widest variety of viscosity.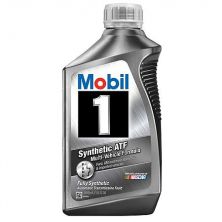 Mobil 1 Fully Synthetic Automatic Transmission Fluid Quart Bottle (0.946Litre)
Mobil 1™ Synthetic ATF is a multi-vehicle, fully synthetic fluid designed to meet the demanding requirements of modern passenger vehicles.
Mobil 1 Synthetic ATF outperforms conventional automatic transmission fluids and helps to provide outstanding resistance to oil breakdown and deposits. The inherently high viscosity index and stability of Mobil 1 Synthetic ATF helps to protect against thermal breakdown at high operating temperatures, while still providing outstanding performance at ambient temperatures as low as -54°C. Further, it helps to improve overall transmission durability and cleanliness.

Mobil 1 Synthetic ATF is a multi-vehicle formula recommended for use in modern high performance automobiles, SUV's, SUT's, vans and other light trucks.


It is recommended by ExxonMobil for use in applications requiring DEXRON® III, Ford MERCON® and MERCON® V performance levels.


Meets or exceeds the off-highway power transmission requirements of Allison C-4.


Recommended by ExxonMobil for use in any power steering unit where a DEXRON® or MERCON® fluid is recommended.
Mobil 1 Synthetic ATF meets or exceeds the requirements of:

According to ExxonMobil, Mobil 1 Synthetic ATF is of the following quality level:


Allison C4
GM DEXRON® IIIH
GM DEXRON® IIIG
GM DEXRON® IIE
GM DEXRON® IID
GM DEXRON® II
GM DEXRON®
Ford MERCON®
Voith H55.6335.3X
MAN 339 V1
Volvo 97340
Volvo 97341
For Mobil 1 Oil products info, Please visit Mobil 1 US web.
http://www.mobil.com/USA-English/Lubes/PDS/GLXXENPVLMOMobil_1_Synthetic_ATF.aspx