Product Feature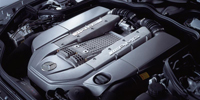 Product Feature These products offer the highest quality available on the market today and in the widest variety of viscosity.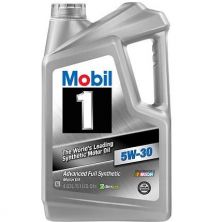 Mobil 1 5W-30 5 Quart Bottle (4.73Litre)
Mobil 1™ 5W-30 is an advanced full synthetic motor oil designed to keep your engine running like new by providing exceptional wear protection, cleaning power and overall performance. It meets the demanding ILSAC GF-5 performance standards, and is dexos1™ approved by General Motors.

Mobil 1 5W-30 meets or exceeds the requirements of the industry's toughest standards and outperforms our conventional motor oils. Mobil 1 technology comes as standard equipment in many different vehicles, including select high-performance vehicles.

It is recommended for all types of modern vehicles, including high-performance turbo-charged, supercharged gasoline and diesel multi-valve fuel injected engines found in passenger cars, SUVs, light vans and trucks.

Mobil 1 5W-30 is general purpose motor oil for all types of cars.


It is not recommended for two-cycle or aviation engines, unless specifically approved by the manufacturer.
Mobil 1 5W-30 synthetic motor oil meets or exceeds the requirements of:
ACEA A1/B1, A5/B5
API SN, SM, SL, SJ
ILSAC GF-5
Ford WSS-M2C946-A
Ford WSS-M2C929-A
Mobil 1 5W-30 has the following builder approvals:
General Motors Service Fill dexos1™

Honda / Acura HTO-06
Mobil 1 5W-30 is recommended by ExxonMobil for use in applications requiring:
General Motors 4718M
General Motors 6094M
More info Please visit Mobil 1 USA website.
http://www.mobil.com/USA-English/Lubes/PDS/GLXXENPVLMOMobil1_5W-30.aspx