Product Feature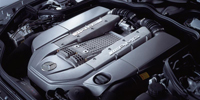 Product Feature These products offer the highest quality available on the market today and in the widest variety of viscosity.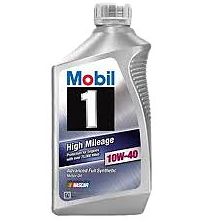 Mobil 1 HM 10w-40 Quart Bottle (0.946Litre)
Mobil 1™ High Mileage 10W-40 advanced full synthetic motor oil is designed to help maximize engine performance and extend the engine life of vehicles with over 75,000 miles.
Mobil 1 High Mileage oils are made with a proprietary blend of high performance synthetic basestocks fortified with an additive system designed especially for higher mileage vehicles.
 
Mobil 1 High Mileage synthetic motor oils are recommended for vehicles with more than 75,000 miles including all types of modern gasoline engines found in passenger cars, SUVs, light vans and trucks.

Mobil 1 High Mileage oils are suitable for many types of severe driving applications including high-speed highway and stop-and-go city driving.


It is not recommended for two-cycle or aviation engines, unless specifically approved by the manufacturer.
Mobil 1 High Mileage 10W-40 synthetic motor oil meets or exceeds the requirements of:
ACEA A3/B3
API SN, SM, SL
Mobil 1 High Mileage 10W-40 is of the following quality level:
API CF
More info please visit Mobil 1 USA website.
http://www.mobil.com/USA-English/Lubes/PDS/NAXXENPVLMOMobil_1_High_Mileage_Oil.aspx