Product Feature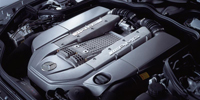 Product Feature These products offer the highest quality available on the market today and in the widest variety of viscosity.
Mobil 1 Esp 5W-40 Quart Bottle (0.946Litre)
Mobil 1™ ESP Formula M 5W-40 fully synthetic motor oil is made with a proprietary blend of high-performance components formulated to be fully compatible with the latest Diesel Particulate Filters (DPF's). It is engineered to help prolong the life and maintain the efficiency of emission systems in both diesel and gasoline powered automobiles that require an oil is approved against MB 229.51 specification.

Mobil 1 ESP Formula M 5W-40 synthetic motor oil is designed to help provide exceptional cleaning power, wear protection and overall performance.
Mobil 1 ESP Formula M 5W-40 has the following builder approvals:

MB-Approval 229.51 / 229.31
Mobil 1 ESP Formula M 5W-40 is approved against Daimler Chrysler MB 229.51.

It is not recommended for two-cycle or aviation engines unless specifically approved by the manufacturer.
More info please visit Mobil 1 USA website.
http://www.mobil.com/USA-English/Lubes/PDS/GLXXENPVLMOMobil1_ESP_Formula_M_5W-40.aspx