Product Feature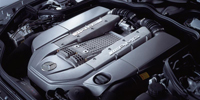 Product Feature These products offer the highest quality available on the market today and in the widest variety of viscosity.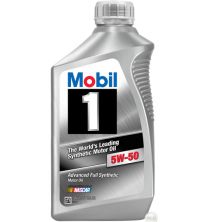 Mobil 1 5W-50 Quart Bottle (0.946Litre)
Mobil 1™ 5W50
Mobil 1 5W-50 is a 100% advanced fully synthetic engine oil that provides outstanding protection, even during extended-use driving.
Outstanding engine cleanliness and wear protection
Helps keep your engine running like new
Exceptional high temperature protection
Improved protection against sludge and harmful deposits
Suitable for older and new vehicles
Meets or exceeds the requirements of API SN/SM/SL/SJ and ACEA A3/B3, A3/B4 Approved against VW 505 00/501 01, PORSCHE A40, MB-Approval 229.3/ 229.1, BMW High Performance Diesel Oil and Lexus LFA Factory Fill.
More info Please visit Mobil 1 Oil website.
http://www.mobiloil.com/USA-English/MotorOil/Oils/Mobil_1_Advanced_Fuel_Economy.aspx