Product Feature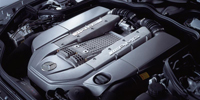 Product Feature These products offer the highest quality available on the market today and in the widest variety of viscosity.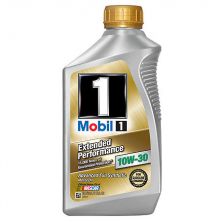 Mobil 1 EP 10W-30 Quart Bottle (0.946Litre)
Mobil 1 Extnded Performanc 10W-30
Mobil 1 Extended Performance oils feature a special formulation that helps to provide outstanding protection during today's longer oil change intervals, and are guaranteed to protect for up to 15,000 miles between oil changes*.

Mobil 1 Extended Performance 10W-30 synthetic oil is made with a proprietary blend of high-performance synthetic base stocks fortified with a precisely balanced additive component system, designed especially to help deliver performance and protection during long service intervals. Mobil 1 Extended Performance oils are uniquely designed to help provide outstanding levels of performance, cleaning power and engine protection, even during longer oil change intervals.

Mobil 1 Extended Performance advanced full synthetic motor oils are recommended for all types of modern vehicles, including high-performance turbo-charged, supercharged gasoline multi-valve fuel injected engines found in passenger cars, SUVs, light vans and trucks.

Mobil 1 Extended Performance motor oils provide guaranteed protection of critical engine parts for 15,000 miles or 1 year, whichever comes first. Excluded service includes: commercial and racing applications; frequent towing or hauling; extremely dusty or dirty conditions; or excessive idling.


If your vehicle is covered by a warranty, follow the vehicle's oil life sensor or the oil change interval recommended in your owner's manual. Proper maintenance practices, including frequently checking the oil level to ensure that the appropriate amount of oil is present, are required to ensure effective performance.
Mobil 1 Extended Performance 10W-30 synthetic oil meets or exceeds the requirements of:
ILSAC GF-5
API SN, SM, SL, SJ
ACEA A1/B1, A5/B5

According to ExxonMobil, Mobil 1 Extended Performance 10W-30 has the following quality level:
General Motors 4718M
General Motors 6094M
API CF
http://www.mobil.com/USA-English/Lubes/PDS/GLXXENPVLMOMobil_1_Extended_Performance.aspx